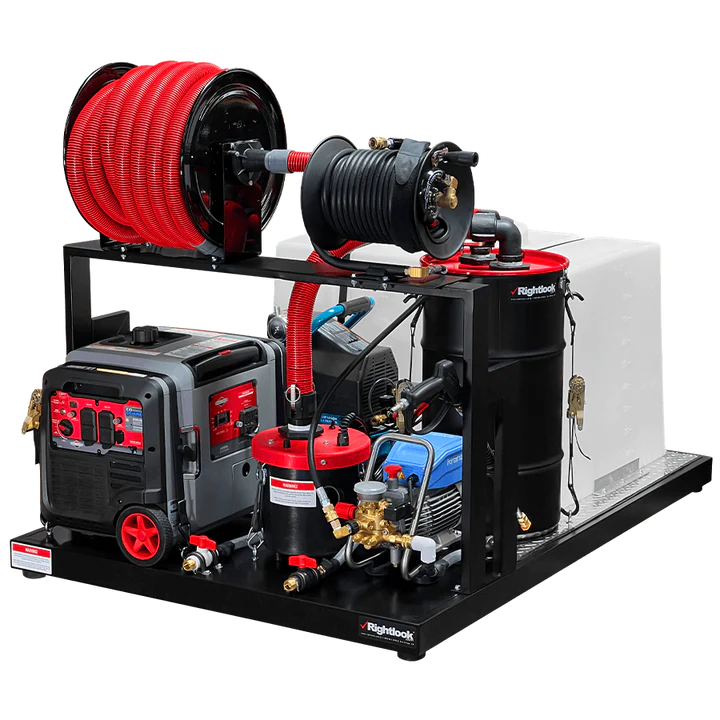 21 Apr

Detailing Skid Mount: The Ultimate Solution for Mobile Detailing on the Go
If you're in the auto detailing business, you know that having the right tools and equipment to efficiently and effectively complete the job is crucial. One of the most game-changing tools in recent years has been the detailing skid mount. A skid mount is a self-contained unit that you can easily mount onto a truck or trailer, enabling you to take your detailing services on the road.
This guide will help you choose the best mobile detail skid mount for your needs, whether you're starting out or expanding your current operations. We'll discuss the benefits and types available to help you choose the perfect skid mount for your business.
What is a Detailing Skid Mount?
A portable detailing system called the detailing skid mount enables you to provide high-quality auto detailing services on the go. You can take your detailing services to your customers instead of relying on a traditional fixed-location shop.
The system's steel frame is tough and easy to transport in a truck or van. It works well with professional-grade detailing tools and accessories.
This necessary gear offers a thorough and effective detailing solution for washing, waxing, paint correction, and upholstery cleaning. You can work anywhere and anytime since the skid mount eliminates the necessity for external water or power sources.
Professional-Grade Tools and Accessories for Mobile Detailing
Equip your detailing skid mount with professional-grade tools and accessories to provide high-quality auto detailing services on the go.
Pressure washer: A powerful and efficient pressure washer is a must-have for any detailing skid mount unit, as it's essential for a thorough prep wash. Whether you choose an electric or gas option, having a reliable pressure washer is crucial to achieving high-quality detailing results.
Generator: With a built-to-last generator, you can power up your pluggable tools without the need for building outlets.
Water tank: Provides a self-contained water source for detailing tasks.
Pressure hose: A pressure hose is a crucial component that connects the pressure washer pump to the pressure washer gun, enabling the transfer of high-pressure water from the pump to the gun for effective cleaning.
Air compressor: Save time during the drying process with an optional air compressor that allows you to easily blow out water hiding in crevices.
Foam cannon: When you detail a car, you can use a foam cannon to help with the washing stage. It comprises a canister with a nozzle that connects to a pressure washer. When filled with car soap and sprayed, it produces a thick foam.
Carpet extractors: A carpet extractor quickly removes dirt and stains from carpets and upholstery with hot water treatment, cutting your stain removal time by half and potentially doubling your interior-cleaning sales.
Essential Equipment and Products for Mobile Detailing Services
In addition to a detailing skid mount, there are other essential equipment and products that you may need to provide a complete and effective detailing solution. This may include items such as polishers and pads, as well as detailing chemicals.
If you've invested in a high-quality detailing skid mount system, it may already include equipment such as a carpet extractor, making it unnecessary to purchase additional equipment. However, it's still important to ensure that you have all the necessary tools and products at your disposal to provide professional and efficient detailing services on the go.
Invest in high-quality equipment and products to build a strong foundation for your detailing skid mount business. With the right tools at your disposal, you can provide professional and efficient detailing services on the go.
Benefits of Detailing Skid Mounts
Skid-mounted units are the most popular option for mobile detailing equipment because they provide everything you need for cleaning in a contained and organized manner. The benefits of detailing skid mounts are numerous. They save time and improve efficiency in detailing work, allowing you to serve more customers and generate more revenue.
Skid mounts provide the benefit of easy removal, freeing up your vehicle for personal use and giving a professional presentation. This advantage sets you apart and appeals to clients who appreciate the convenience of mobile detailing.
These mounts can be lifted in and out of a vehicle with the help of a few individuals, as they are designed to be lightweight and portable. In addition to their ease of use, they are also versatile, providing all the resources required for detailing work, such as water, power, and cleaning solutions. As a result, businesses can avoid the need for external sources such as water hoses and electrical outlets.
Skid-mounted units are a strong and adaptable tool for detailers who work on-the-go. With the advantages of saving time, efficiency, flexibility, and a professional look, purchasing a skid mount is worth considering for any mobile detailing business.
Available Options for Skid Mount Detailing
When it comes to available options for skid mount detailing, there are several to choose from:
Skid Component Units: These units are perfect for small spaces and DIY installations.
Micro Skid Units: Our micro skids are powerful and designed to fit in smaller trucks, vans, and SUVs.
Standard Skid Units: With larger tank sizes and upgrade options available, standard skid units are perfect for medium to full-size trucks, vans, and trailers.
All-In-One Skid Mount Units: Customizable skid mount units have everything you need to run a successful detailing business, making them the ultimate choice for those looking for a complete and convenient solution.
Features to Consider When Choosing a Skid Mount for Your Mobile Detailing Business
Mobile detailing businesses can easily add equipment to their existing trailer or truck with a skid mount. To get the most out of your investment, consider several features when choosing a skid mount.
Commercial Grade Quality: A skid mount must have durable, high-quality parts to withstand professional use. Choose models that use professional-grade equipment for reliability and longevity.
Quality Control: Choose a skid mount that is manufactured in-house by the detailing equipment provider. This ensures that the product you receive is made with careful attention to detail and designed to handle tough use.
Configuration Options: Every business has unique needs, so choose a skid mount that fits your budget and needs. Rightlook.com offers custom options, with sizes to fit most trucks, trailers, and vans.
Ease of Use: Choose a skid mount that is easy to use and transport. This will save you time and effort when setting up your equipment at various locations.
Shipping & Financing Options: Pick a company that can ship their skid mounts anywhere. This gives you more options to choose the right skid mount for your mobile detailing business. Rightlook.com offers financing options, including Affirm monthly financing, to help you get started quickly and easily.
Vendor Support: It's important to buy a skid mount from a company that focuses on auto detailing units. Look for a company that knows your business, and can help your business with expert advice and parts.
Consider these factors to select a skid mount that meets your needs and makes your business stand out.
Customize Your Skid Mount Today and Take the First Step Towards Mastering Skid Mount Detailing
Visit our online skid configurator to find the perfect detailing skid mount. With a wide range of units for any use or budget, we can help you find what you need.
At Rightlook.com, we strive to offer you the highest quality products and exceptional customer service. Contact us now to discover our skid mount models and custom options. Start your journey to becoming a skid mount detailing expert with our high-quality pressure washer designed for mobile detailing.