02 Dec

8 Reasons to Buy a Mobile Pressure Washer Trailer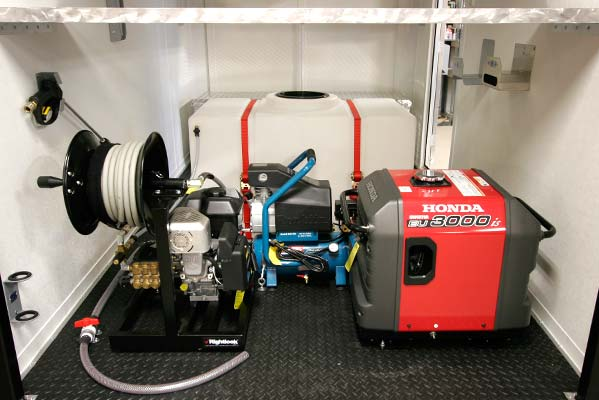 At Rightlook.com, we offer more than just professional hands-on training courses. We carry a wide variety of tools, supplies, and equipment including custom-built mobile pressure washer trailers. Here are some the reasons why it's never been a better time to buy:
Commercial grade quality that won't let your down.
We use only professional grade parts and equipment to build mobile pressure washer trailers designed for everyday, professional use and are built to last.
Professional look that will set you apart from your competition.
With a professional mobile pressure washer trailer, your customers will know that you're a trained detailing expert. Most of our models also have ample room to add custom graphics and branding.
Built in-house at Rightlook.com for quality control.
Each of our mobile pressure washer trailers are built in-house at our facility in San Diego, CA so you can be sure that you're getting a quality hand-made product.
Multiple configurations to meet any need and budget.
Every business is different and we offer a range of trailer and skid mount model configurations. We can also help you customize your mobile pressure washer trailer to your exact needs and specifications.
#1 choice of professional mobile detailers.
Our mobile pressure washer trailers were designed by detailers, for detailers. Each unit comes outfitted with a water tank, commercial grade pressure washer, generator, 3-in-1 extractor / vacuum / water reclaim, and air compressor with hose and air fittings. There is also plenty of room for additional storage.
Financing options available.
We have finance options available to help you kick-start your business with payments spread out over 2-4 years. The application process is quick and simple with many approvals within 24 hours.
Can easily be removed from your trailer to free up space for personal use.
If you already have a trailer, we also offer skid mounts which are more cost effective and can be easily removed from your trailer at any time, making it as versatile as it needs to be.
We ship anywhere.
Even if you don't live in Southern California, you can still get a quality mobile pressure washer trailer for your business. We can ship anywhere!
To learn more about our custom mobile pressure washer trailers, call 800-883-3446 today to speak to one of our business consultants.