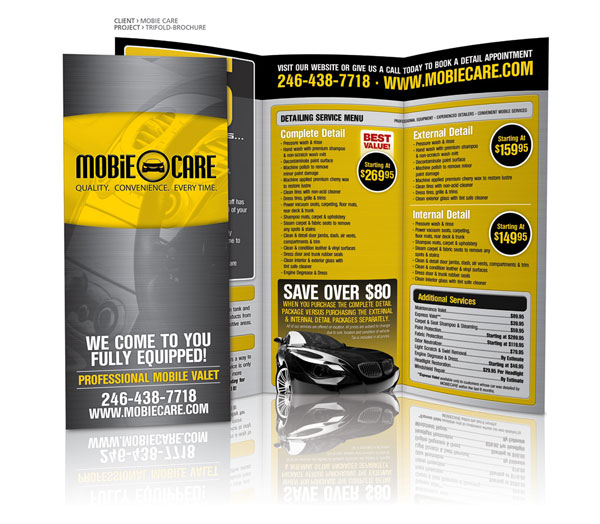 30 May

Why Every Auto Detailing Professional Needs a Tri-Fold Brochure and 6 Ways to Use Them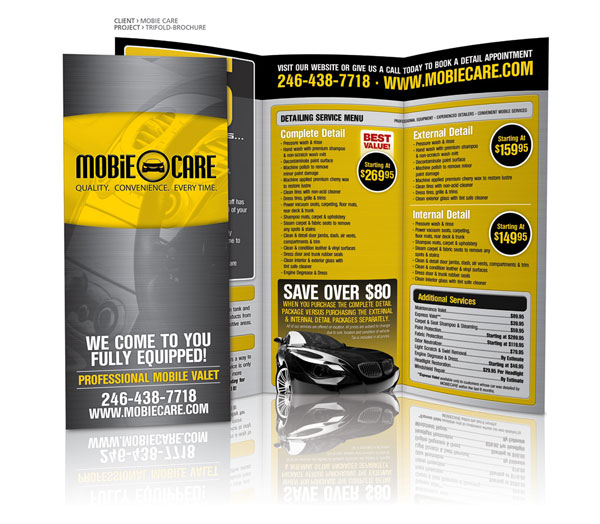 When it comes to marketing, a tri-fold brochure is one of those "don't-leave-home-without-it" pieces that no automotive appearance professional should be without. A tri-fold brochure is an easy, portable way customers can easily learn about and remember your business. Your tri-fold should include a business name and logo, pictures of your shop or mobile rig, your work, info about the owner, service list, and of course location and contact info.
Since your brochure is a piece you'll use over and over again, it has to look great. Spend the time and budget for design and production quality that really stands out. If done right, you only have to pay for great design once, and while redesigns are expensive, reprinting is not.
Aside from their wide range of uses, a custom tri-fold brochure is a huge advantage to your business because your competitors aren't using them. A professionally-designed brochure tells customers you are serious about your business, gives you an established look, and makes your business more memorable.
Once you have your tri-fold brochure designed, here are 6 ways you can use it to grow your business.
1. Give them to Everyone You Know
Never leave home without a stack of brochures, keep them in your vehicle, and hand them out to everyone you think might need your services.
Friends and family members are great sources of referral business, and they can pass along your brochure for even more exposure. See a car in the parking lot that could use your help? Stick one of your brochures on the windshield.
2. Leave them at Auto-Related Businesses
Related but non-competitive automotive businesses are a great place to leave your brochures. Seek out businesses like auto repair shops, wheel and tire centers, and other places that deal with lots of cars but don't offer auto appearance services. Most shop owners are happy to exchange marketing pieces.
3. Take them to Networking Events
Referral groups, chamber of commerce meetings, trade shows, and other events shouldn't be attended without a stunning tri-fold. These kinds of events are prime environments for new business, so be prepared so you can follow every handshake with a tri-fold brochure.
4. Leave them in Customer Vehicles
Don't forget about your current customers. Leave several brochures in every vehicle you service so customers can always remember your business, have a reference to your services, and have the opportunity to pass it along to a friend. Having a leave-behind also brands your business and gives a more professional look.
5. Mail them to Prospective Clients
Brochures make great direct mail pieces too. For phone inquiries, ask for potential customer addresses so you can mail them a brochure. You can also mail them to current customers at regular intervals to remind them of your business, send them with holiday cards, or mail to new contacts you collect along the way.
6. Get Commercial and Fleet Accounts
A professionally-designed brochure will vastly increase the chances you land larger commercial, fleet, or dealership accounts. These kinds of businesses are a huge source of repeat business, so be sure you can confidently hand them a professionally-designed marketing piece that lets them know you're the one for the job.
Ready to bring your business to the next level with a professionally-designed tri-fold brochure? You can contact our marketing company, Rightlook Creative for custom design and printing of your own branded tri-fold brochures.